07 Feb

Why import from China?
China has been the manufacturing centre of the World for over 30 years.
In China you can find almost anything you want from small handicrafts, like jewellery, to large capital equipment such as agricultural machinery. We've highlighted the main areas in China for popular commodities on the map below. Many people have heard of the Yiwu market (4) where you can source many of the popular products you see sold on Ebay and Amazon. We wanted to talk you through how we can help you import from China.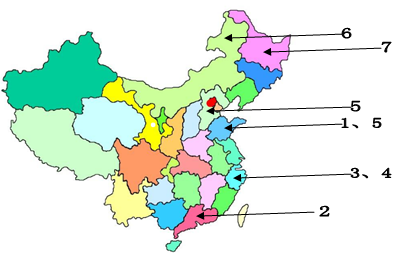 | | |
| --- | --- |
| Commodity | Province |
| Chemicals | 1 Shandong |
| Electricals/Furniture | 2 Guangdong |
| Industrial Equipment | 3 Zhejiang |
| Small commodities Ebay & Amazon goods | 4 Yiwu, Zhejiang |
| Metal products | 5 Hebei, Shandong |
| Ore & Chemicals, livestock | 6 Inner Mongolia |
| Agriculture | 7 Helongjiang |
With a population of 1.5 billion, China has a low labour cost. This makes many products cheaper from China than most other countries. The quality of products has improved greatly over the years so you can be confident in getting the product you want if you find the right supplier.
We have been helping companies buy from China for more than 20 years and know many good manufacturers. This means finding high quality manufacturers, negotiating and getting good prices. Also we supervise the whole process for you to get great results and assist you all the way through.
Sourcing good, reliable and trustworthy Chinese manufacturers
We use our friends and contacts to ask for recommendations about good suppliers in order to find reliable manufacturers. Search engines like Baidu www.baidu.com, Alibaba www.alibaba.com, Taobao world.taobao.com and www.made-in-china.com are useful. It is important, though, to deal direct with manufacturers and try to avoid agents. Also to avoid the possibility of being scammed which unfortunately we hear of many examples. This is where we can assist you.
How do we know they are the right suppliers?
We phone the supplier to get an overall impression of them and we check to ensure they have high ethical standards. Alibaba has a qualification process for their suppliers so we use this to back up our own research. Many suppliers claim to have certification but we can check this on Tianyanchina. Also we check the manufacturer's export data using Chinese customs information. Finally we visit the manufacturing site to make a final decision and see the operation for ourselves.
Getting a good price
First we select 5-10 good manufacturers for the target product. Then get a quotation from each of them and check the price and terms. We make a database and analyse the supplier offers. The best 2 or 3 manufacturers will be compared and a final negotiation takes place to decide the best supplier.
How do we supervise the process of manufacturing to guarantee the quality of final product?
This is the most important part of what we offer you. Our team have plenty of experience in checking factory production processes, so we know what we are doing. We will always ask for a sample and send this to you to check. If it is not quite right we will ask the factory to change it and resend. Once the sample is approved we go to the factory to check the full production quantity and send you a report with photos to approve, before arranging the shipment.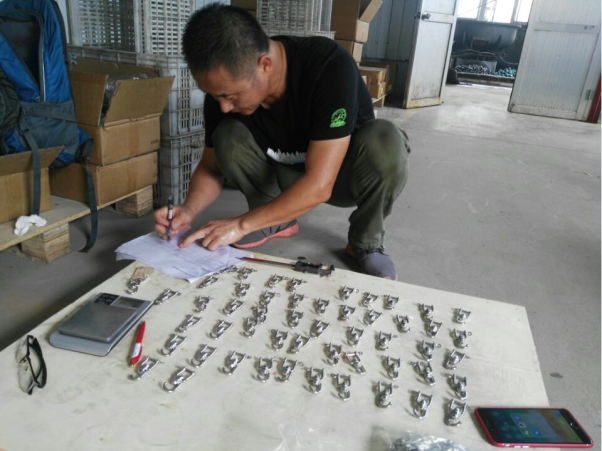 Jecky inspecting goods at the factory
Supervising the shipping
We will contact your logistic company and tell them the shipment is ready with a full packing specification. Alternatively we can recommend our own logistics company who we use to organize the whole process including identifying any import duty to be paid, advising on VAT (Value Added Tax) and the door to door transport cost. All this is done to make your life as easy as possible! Products can be shipped by air freight or sea freight depending how quickly you need them. All the paperwork is taken care of for you.
Paying the supplier
Usually most Chinese suppliers require payment before shipment – this is normal. We would probably agree 30% payment on order then 70% payment after we have checked the goods and agreed they are OK to ship. In time it is possible to negotiate credit terms with most Chinese suppliers once trust has been built and the trading relationship is a good one.
We are at your service to help you import from China successfully and without hassle. Feel free to contact us and we will talk you through how to successfully import from China.
Until next time – zai jian!
Back to home page